ADVERTISEMENT:
It's That One Guy from Brainstorm Brewery
Hey, everyone! You might remember me from brainstormbrewery.com, where I've been writing Magic finance articles for the past year and a half. You might remember great classics as Be Your Own Buylist, Checking in the Closet, Power 10,  One More Card,  The Nekusar Effect,  Common Rares, Rent a Car(d), and Wizards has Never Done That! If I had to give a list of my articles that I'm most proud of and feel are the most informative, I think that's a pretty comprehensive list. Hopefully, this week's bundle of words is going to be one that gets added to that list. While I will no longer be writing finance content for Brainstorm Brewery, you can still read my articles here on MTG Price every week, and I'll still be working with BSB in one shape or form. Thanks for sticking with me!
Have you Heard about the Word?
The word of the week (and month, and next couple of months), is dragon. Dragon, dragon, dragon. Dargon, winged wyvern, scaly fire-breathing lizard, Shivan—however you want to say it. Dragons are the talk of the town, in both the casual realm and the finance world. Everyone's hunting down the next Scion of the Ur-Dragon, as if they were the Khans in the first set of the block. While there are so many people rushing to pick up cards that they're expecting to spike, I'm leaning towards liquidating some cards that are either dead weight at this point, or are likely candidates for reprinting in the near future.
Modern Masters 2015 is a mere two months away, and so is Grand Prix Las Vegas (with GP Chiba in Japan and GP Utrecht in the Netherlands being played simultaneously), so I'm looking to start getting rid of the inflated Modern staples that have a shot at being in the set. There's also Magic Origins on the horizon, not to mention From the Vault: Angels coming out toward the end of the summer. There are lots of opportunity for Wizards to reprint some of the more valued cards in various formats, so I'm looking to stay clear of being hit too hard by selling early. I want to reinforce that the idea of this article is less of a "What do I think will be in Modern Masters???!!!111", and more of a "I think these cards are too risky to hold onto in the short term, and I am looking at liquidating them in the next couple of weeks." Some of you might be more inclined to hold these cards for a bit longer, but I prefer to avoid as much risk as possible, and just lock in what I can, when I can. 
The Praetor Cycle
Elesh Norn, Grand Cenobite 
Urabrask the Hidden 
Jin-Gitaxias, Core Augur 
Vorinclex, Voice of Hunger 
Sheoldred, Whispering One
New Phyrexia is the most recent set that MMA2015 will contain, and it's already confirmed to have a higher print run than the original set. But how much larger, you ask? Well, we can't really say as of yet. However, it's safe to assume that Wizards has realized the mistakes that occurred in 2013, and will be rectifying them in 2015, at least to a degree. What's important to take away here is that if they get reprinted, some praetors will take a bigger hit than others. Elesh Norn is the biggest red flag here, at $33. If she's not reprinted, she probably continues to creep upward to $40, but I'm jumping ship here while I can lock in money. I don't want to own any Praetors that I'm not using come May.
Gitaxian Probe is a $3 common. Let that sink in for a moment. It wasn't printed a decade ago like Serum Visions was, but it's still $3. Maybe there's a chance of it creeping up towards $4 in the longer term, but I don't really care to have any part of that. I'm happy buying these across the buylist table at $1, and shipping them for $2 or $2.50 out of my local display case. While Phyrexian mana is pretty awkward to have to reprint, Modern Masters is pretty much the perfect excuse to do it.
Did you know that the cheapest edition of Bolt is also pretty much $3 at this point? It's the most popular nonland card in Modern, according to MTG Goldfish. The last time it was printed was in the Premium Deck Series: Fire & Lightning set, and before that was M11. If it's not going to be in MMA2015, I can see it being put into another casual product like a Duel Decks or Commander product. I had these in my spec box when they were $1, and now I believe they've ripened to the point where I want to harvest the crackling energy that is pure profit. That being said, this isn't something I would liquidate in an emergency if you're running them in a deck. At the most, you'll probably lose $6 per playset if it's put into a supplemental product. I just wouldn't advocate holding onto extras or stocking up on additional copies expecting a continued climb for too much longer.
ADVERTISEMENT: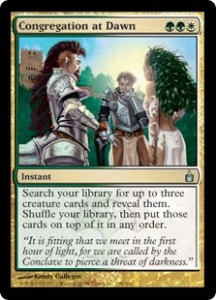 If you haven't heard, this recently jumped up in price to $3 because of speculation on a new (well, semi-new) Modern combo with Collected Company. The idea is to tutor up three small creatures that can go infinite together, then slam them all on the board at once with the new Dragons of Tarkir rare. Personally, I think the combo is a bit too clunky, and it's trying too hard to be what Birthing Pod used to be. Foils have jumped up to $15 on the low end of eBay, but I'm still not upset about getting rid of the one I had at $12 while it was on the rise. While the card is getting increasingly hard to find due to lack of reprints, I'd get out now if you managed to buy in for cheap.
ADVERTISEMENT:
Once Nightveil Specter took a vacation, Master of Waves was lonely, and sank into a deep financial depression. Until Dragons of Tarkir came along and a newfound friend appeared! Because of Shorecrasher Elemental's reveal, there were rumors spread throughout the community. Is Mono-Blue Devotion going to be good again? Should I buy a significant amount of Master of Waves, and be prepared to sell them for $20 like I did last year? Apparently the answer to all of those questions was a resounding and presumptuous "YES!" Unfortunately, that's not exactly what I expect to happen. While it has jumped from $3 to $7 in the past couple of weeks, I'm advocating that you also make a jump of your own: out of your copies of MoW that you already own. Even if Devotion becomes a deck again, there's no "Wow" factor this time at a pro tour to make everything's price go absurdly crazy. Get out while you can, there's really no financial hope for Master of Waves in any other format than Standard.
Zendikar Basics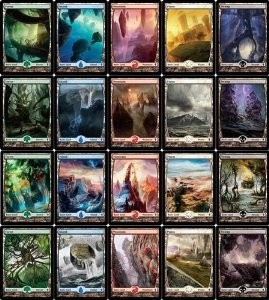 Ever since these were inserted into the Zendikar and Worldwake booster packs, I remember people saying, "I'm stocking up on these, they'll be the next Unhinged lands," or something to that effect. Well almost six years have gone by, and these still have barely breached $1.50 each, let alone the $5 that was predicted by many. Instead of becoming hard to find chase basics that show off how regal an individual's deck is, the non-foil ones are mediocre for "blinging out" purposes, and have mainly been relegated to cubes and Limited players' arsenals for a cheap alternative to Unhinged.
If you were hoping for these to pay for your retirement, I'd stop and give it up already. This slow to non-existent growth is accompanied by the fact that we're returning to Zendikar this fall, and there's a non-zero possibility that Wizards decides to include some nostalgia in the packs by reprinting these full-art lands. Instead of keeping the ZEN full art lands in your spec boxes, they're probably best kept for personal use or unloaded to move cash elsewhere. While I think the foils are still a fine pick-up in trades, I wouldn't touch the non-foils unless you get them as throw-ins for practically free.
The little anti-Twin that could has slowly climbed higher and higher these past few years, and as its increasing utility in Modern grows, the number of existing copies stays the same. If Gitaxian Probe manages to see a reprint, 'Skite will almost certainly be in the same boat. I don't think there's enough potential left in the Phyrexian mana magnet to warrant holding onto copies if you're not actively sleeving it up and sending it into battle, so I recommend unloading extra copies while you have the chance. Channel Fireball is offering $15 cash for copies while I'm writing this article, which seems like a darn good deal to me. If 'Skite is shown to be in Modern Masters this year, I can't see it staying above $10, maybe even $5 depending on the print run.
Angels on the Battlefield
Last, but certainly not least on the pricing spectrum, I want to talk about the candidates for the upcoming From the Vault: Angels. While the product doesn't come out until later this summer, there are a couple of cards that I'm still wary about holding due to the fact that they could be in the FTV or MMA. There's very little to be gained on either of these cards, and I have multiple copies of each on TCGplayer right now, to put my money where my mouth is.
This card is approaching $40 through casual appeal alone. It's fine in EDH, sure, but other than that? Pure. Casual. 78-card mono-angel-tribal land. That's where this card sees play. I don't think Wizards wants its Legendary Mega-Mythic Super 8/8 Angels™ to be $40, at least not just a few years after being printed. I'm going to sound like a broken record at this point, but if you're not using them; sell them now.
Although Linvala sees a tiny bit of Modern play as a one-of to shut off value-based creature strategies, she sees even less play now that Pod got the axe. A prime target for either of the products we've been talking about in this article, Linvala's price stagnated at $50 for the entire year of 2014, before starting to creep down, presumably because of the FTV: Angels announcement. She's $42 right now, but I would try and unload her before anything else happens.
End Step
Anyone else have a list of hot potatoes that they're trying to get rid of? How about those Zendikar fetchlands? There's been a decent amount of controversy as to how "obvious" it would be if they slammed the enemy fetches into Battle for Zendikar this fall, but I'm on the fence myself. I'm still definitely selling off all of my extra Misties, Mesas, and Tarns at the moment, just in case.
Track your collection's value over time, see which cards moved the most, track wishlists, tradelists and more. Sign up at MTGPrice.com - it's free!
ADVERTISEMENT: