ADVERTISEMENT:
Hello, my name is Derek Madlem and I write about Magic: The Gathering. I've been writing articles about all types of topics on MythicMTG for a few years now and most recently wrote Insider articles for Quiet Speculation. Now I'm here to write articles for you. Yes, you. Because you deserve it.
You might have seen me around. I'm on Twitter (@GoingMadlem) disagreeing with basically everyone about everything and occasionally dishing out the same lessons in Magic finance over and over again.
Like this gem:
Give a man a 'Goyf, and he's going to want three more.
Which pretty much sums up everything I have to say about the impending Tarmogoyf reprint in Modern Masters II: The Remastering. Okay, I'll spell it out for the slow kids: I don't think the reprint will have much impact on Tarmogoyf's price because half the people that open one will begin their quests for three more.  There's also an upward pressure on Tarmogoyf's price due to the fetch-wealth of the common man … a topic I'll elaborate on another time.
Origins
I'm a trader at heart. I honed my trading skills in the first grade, trading Battle Beasts for Micro Machines and graduated to swapping X-Men action figures with my school friends. I would trade the hot character from a given week's episode or a rare find for three or four other figures.
When I picked up my first pack of Magic: The Gathering in 1995, I was hooked. I combined my weekly allowance with my lunch money to fund my addiction, thinking, "Why spend $4 on lunch when I could buy four packs of Fallen Empires?" Ah, hindsight …
It took me a while to stumble out of the awestruck phase of kitchen-table Magic and begin to trade with real goals. On a shoestring budget with an addiction for cracking packs, I traded my way into the power nine in just a couple short years, all while selling cards to negate the need for a part-time job. Obviously, I sold all my power right before college.
Sometime during Shards of Alara, I found my way back to Magic with limited funds and ever-growing ambitions. I had missed out on nearly a decade of the game and needed to fill in the gaps.
ADVERTISEMENT:
All the cool kids were playing formats that didn't really exist when I stopped playing in 2000, and I wanted to be one of the cool kids, so I had to acquire some cards.
Finance Style
The most important thing for any budding MTG financier (a term I use loaded with sarcasm) is that there is no one-size-fits-all method. My goal has always been to feed my desires: an ever-moving target that shifts from week to week. When I play Magic, I want to play whatever deck strikes my fancy, a curse that basically requires me to acquire every card I could possibly want. It also doesn't help that the only thing I hate more than letting people borrow cards is asking people to borrow theirs.
When I'm not playing or writing about Magic, I tend to ignore the fact that Magic exists. I can't be bothered to follow spikes and crashes day to day—that's just not for me. I tend to focus on mid-to-long-term price trends. While you're taking the quick double up on Dragonlord Ojutai, I'm shooting aliens in the face on Destiny. While you're reading articles about Brad Nelson's beard, I'm in the garage building furniture.
I rarely sell cards, choosing to unload most of my wares through trades. Long gone are the days that I'll throw away a weekend binder grinding. These days, I do most of my trading through PucaTrade and with a handful of players and dealers that I've developed trade relationships with.
And I've done alright:
#humblebrags
If you're here for the hot tip on the quick flip, I'm probably not your guy. But if you're here for the tools to help curate your collection for the long haul? Well then, I might be your guy.
Words About Cards?
But you're not hear to read about me are you? You want to know about Magic cards, don't you? With the combination SCG Invitational / Standard Open this past weekend, we have a treasure trove of results to comb through for big winners, but are their newly-inflated prices warranted?
Sidisi, Undead Vizier – As of writing this article, Sidisi is hovering a little over the $4 mark on TCG with many saying it could easily go to $10. I disagree. Sidisi suffers from a couple things that hinder its potential.
For starters, Sidisi is legendary, so drawing multiple copies hurts, resulting in most decks limiting the number of copies. Being a five-drop that doesn't have an immediate impact on the board doesn't help matters, as we're spoiled by cards like Stormbreath Dragon and Siege Rhino. The card is still playable because Demonic Tutor is one hell of an effect, even if you do have to sacrifice a creature to achieve it. The real killer here is the reality that being a five-mana creature without haste or an effect that immediately impacts the board means that this card is going to be hard-pressed to make its way into Modern or Legacy. Note that if Birthing Pod was still legal, we'd be having an entirely different conversation.
So what that leaves us with is a rare in large set that will see play as a one- or two-of in Standard and in a variety of Commander decks. I am of the mind that this card is going to see a little spike based on on-screen action at the pro tour, but $6 or $7 is about as high as I would expect it to go before dipping back down to $2 or $3 in the weeks following Pro Tour Dragons of Tarkir.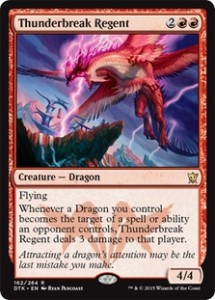 Thunderbreak Regent – Now there's a card that has wings. Thunderbreak showed up as a four-of in a number of red-green aggro decks that performed well this last weekend. I'm sure we'll see more of this card in the coming weeks, so a $10 or $15 price tag seems very possible as this starts to slot into Jeskai or Temur aggro decks. Being able to drop this into play with a Stubborn Denial for protection does not seem like a bad position to be in.
ADVERTISEMENT: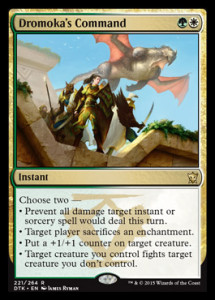 Dromoka's Command is a harder one to gauge. Often, prices are spurred by more than just results and utility cards just aren't as flashy and exciting as dragons or zombie snakes, even if they don't count as snakes. This card is currently sitting at $6, and it's obviously going to see play as long as mana bases are reasonably capable of supporting two colors … but it's just not exciting. It's a conditional two-for-one that doesn't outright perform the deed and can be an atrocious topdeck in the late game, so running a full four-of is going to be a lot harder to justify. I can realistically seeing this card settle around $3.
That said, I can see this card showing up in Modern sideboards, so I like foil copies in the long term if you can find them under $10.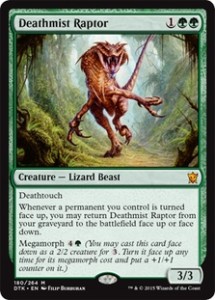 Deathmist Raptor – I might be changing course on my opinion of this card, as I wasn't a fan at first, second, or even third glance, but the lack of aggressive three-drops in green has long been a problem. The ability to "trade up" with large creatures combined with situational rebuys will ensure this is a strong role player over the next 18 months. But role players don't hold $15 price tags—I can see this card settling in for the long haul at $10, but I fear it's probably near its price ceiling now.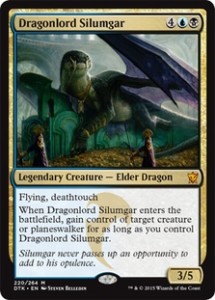 Dragonlord Silumgar is a mythic legendary creature that showed up as a silver bullet in Reid Duke's Sultai Reanimator list. Where I come from, we have a name for mythic creatures that only get played as single copies: Pearl Lake Ancient, though we sometimes call them Torrent Elemental. You can see that both of these cards peaked between $6 and $7 and quickly found their ways downward. Silumgar will likely hold a strong casual appeal, but the dragons of Fate Reforged and Dragons of Tarkir were just not made to be compelling characters that will hold long-term fans . I don't expect Silumgar to hold onto his value for long, even if he does have a really sweet necklace.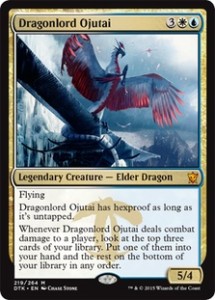 Dragonlord Ojutai is entirely overpriced at $14. This is clearly a powerful card and painfully hard to kill, but then why would you ever need a full four copies? People get entirely too excited at the prospect of playing Esper control decks, and while the hype on this card is partially merited, I can't find myself getting on board at $14. I would recommend shipping any extra copies of this card you might have.
The Kicker
While you can see that I'm generally cold to this weekend's breakout cards, and pretty much everything in Dragons of Tarkir for that matter, there's still plenty of time. Pro Tour Dragons of Tarkir is still a couple weeks away and most of these prices will remain relatively stable until then, especially with Easter getting in the way of additional format discovery this weekend.
Until next time, you can find me on Twitter at @GoingMadlem.
Track your collection's value over time, see which cards moved the most, track wishlists, tradelists and more. Sign up at MTGPrice.com - it's free!
ADVERTISEMENT: